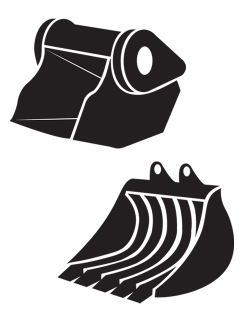 CRUSHER BUCKET
Hire a bucket crusher, the ideal solution to crushing requirements on-site. Using a rig-mounted bucket crusher, all types of inert material can be re-used on site. This type of bucket requires less mechanical equipment, less transportation and dumpsite cost and only one operator.
DIGGING BUCKET
Clamshell buckets, available for hire with exchangeable shells and vertical cylinders are ideal for different applications including excavator operations, landscaping and trench digging.
TILT BUCKET
Increase the adaptability and productivity of your excavator by hiring a tilt bucket. Tilting grading buckets are designed for levelling and grading banks.
RIDDLE BUCKETS
Suitable for sorting and processing a variety of material in demolition, quarrying and landscaping. Use to separate bricks, debris, concrete, stone and timber. Available for hire for 7.5 to 21 tonne excavators.